SB-B
Wearable Underwater Jet Pack with high performance!
SEAL BOOSTER is a unique Wearable Personal Underwater Propulsion Device designed specifically for the skin diver, free-diver, snorkeler and for those who enjoy other types of water sports activities. This special gadget uses low-noise brushless DC motors and Lithium-Polymer batteries to accomplish powerful propulsion at a very low total weight. With it's simple operation and excellent performance in water, SEAL BOOSTER will shine all the more brightly when enjoying snorkeling, skin diving and free-diving as you don't need to use diving fins that will make your strength used up when moving underwater.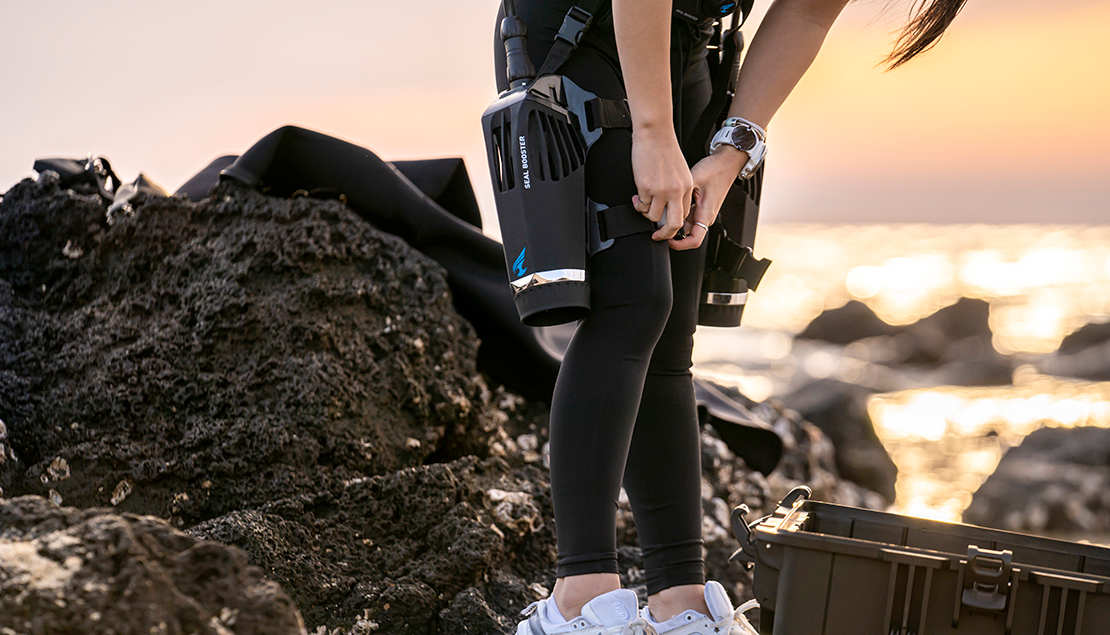 Merely by turning the knob dial on the belt-type controller, you can move through water in a breeze. When it comes to propulsion method, SEAL BOOSTER System is run by water-jet impeller through high-powered strong brushless DC motor. Its high-performance lithium-polymer batteries that are equipped internally within anodized aluminum battery cases, can be used longer than 30 minutes (up to 1 hour depending on speed) once charged.
Controller that is easy to be operated by any user!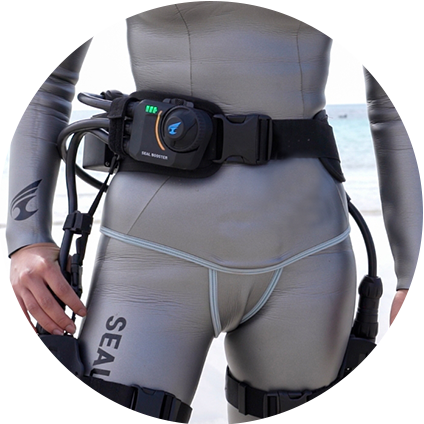 Power ON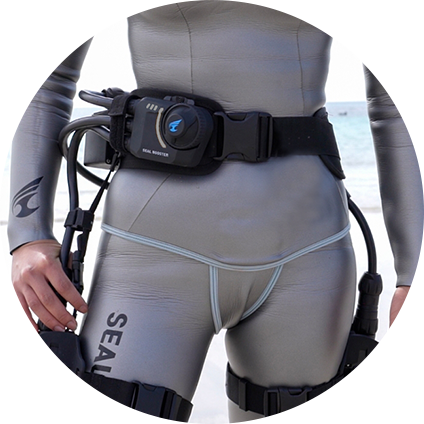 Power OFF
SEAL BOOSTER includes
2 Thrusters / 1 Controller / 2 Lithium-Polymer Batteries (1Set)
Waterproof Cabling Set / Spare Parts Kit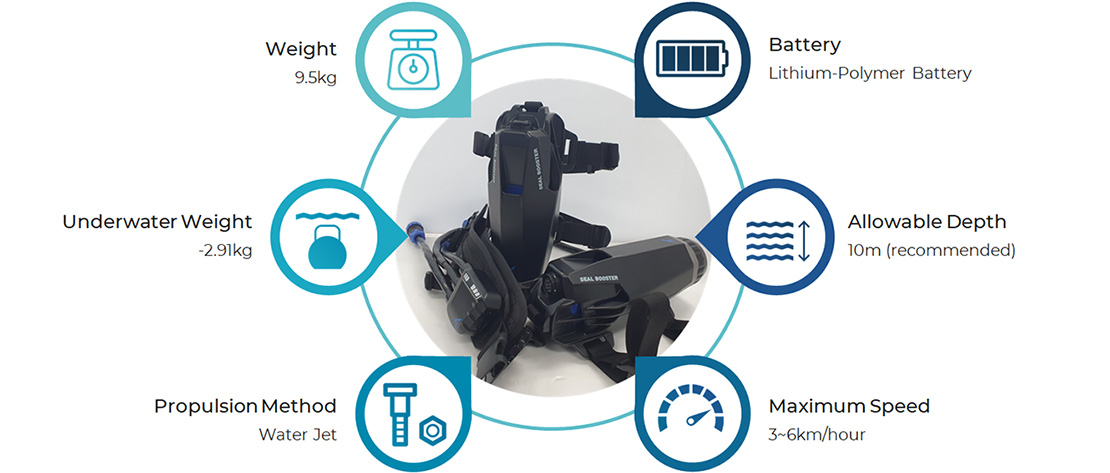 Unlike other conventional-type underwater Scooters(DPV) or diver auxiliary devices that anyone needs to hold with both hands during underwater activities, SEAL BOOSTER will enable you to move freely as both hands are unrestricted. It is specifically designed and manufactured to prevent any sort of accident from happening during your underwater activities by adopting water-jet system instead of propeller system. As a newly-developed wearable underwater personal propulsion device, SEAL BOOSTER will let yourself be transformed into a human torpedo in water. It's 2 powerful thrusters mounted on your both thighs deliver incredible thrusting power when you need it during your underwater activities, and make you control the direction in a balanced way.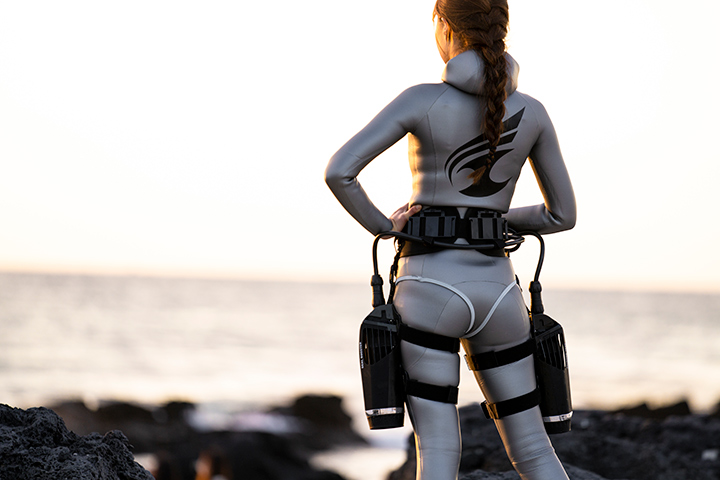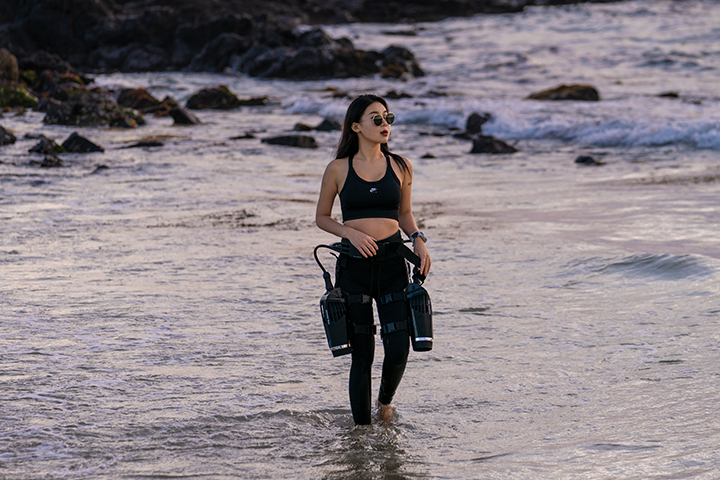 Rather than selling simply, we will be proceeding offline education and training on customers by representative instructors who are allocated in each regional area. This course of offline education is not only for the customers to become familiar with the use of SEAL BOOSTER, but for the safety to be certainly ensured during their underwater operation. Curriculum will be divided by Basic, Advanced & Master course, and license will be issued when they pass the test.
SEAL BOOSTER is to be stored in its exclusive carrying case…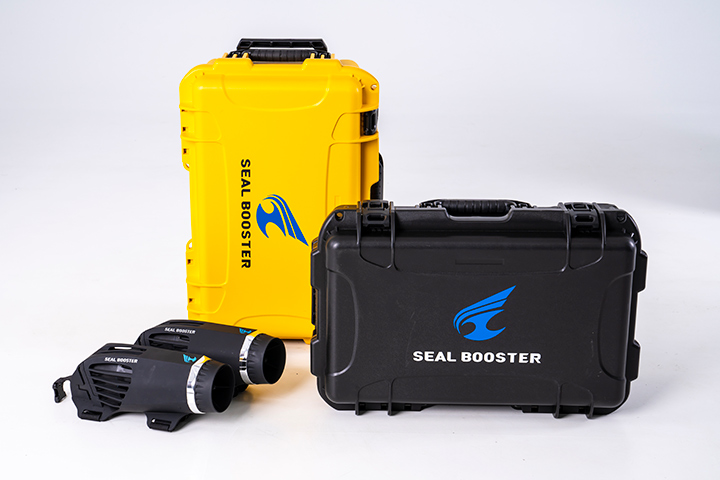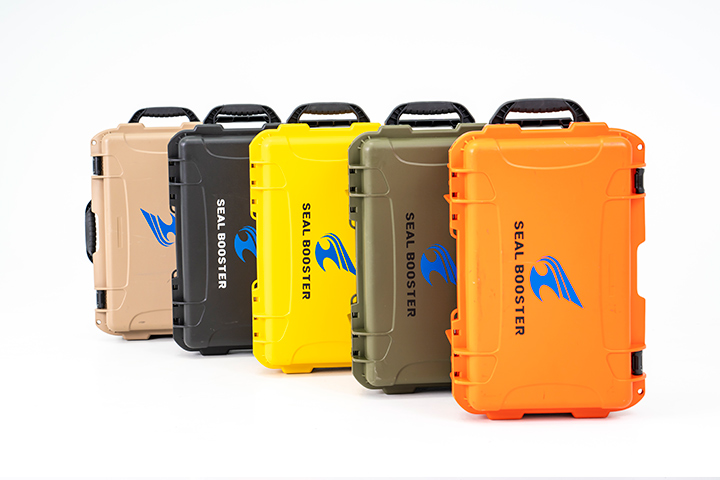 Every parts are to be securely & rightly stored
(cases with different colors other than black will be available upon customizing)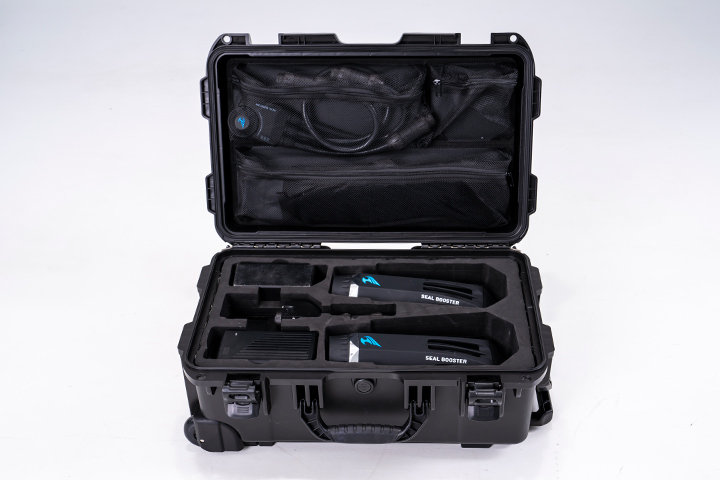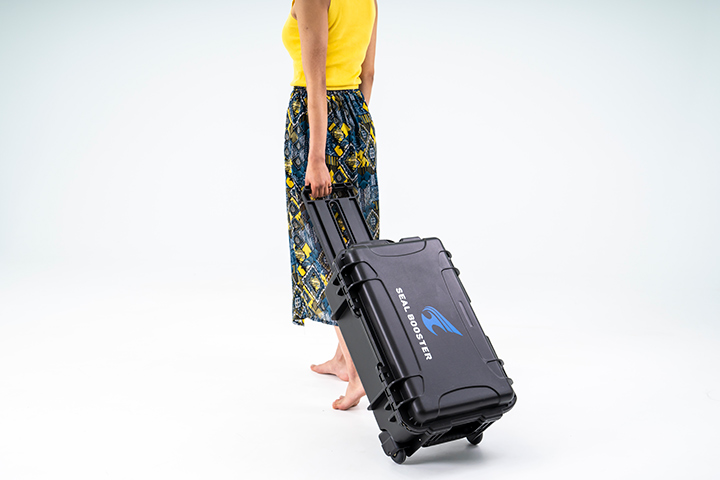 1 full-set is packed in plastic hard case for exclusive use.
(Extra small case for spare batteries can be brought in your carry-on luggage)
SEAL BOOSTER will make water sports activities more awesome and enjoyable. Activate your underwater adventures within seconds with a strong impetus of SEAL BOOSTER! What you need is a few seconds of your time only for operating, then SEAL BOOSTER will be turned into the best water sporting device of your choice.